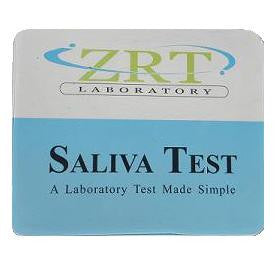 Saliva Hormone Test Kit (ZRT Labs)
ZRT kits test DHEA, testosterone, progesterone, cortisol, estriol, estrone and estradiol.

This kit includes two prepaid tests, but you can test as many hormones as you wish. To test more than 2 hormones upgrade your kit to test more hormones & pay the additional fee when you submit your test to the lab. It costs $35 to test each additional hormone. Ex. If you are testing Progesterone, Testosterone & DHEA then you would include a check to ZRT Labs for $35 with your sample.

Saliva testing is a convenient, inexpensive, and above all, accurate means of testing steroid hormones. It can be done anywhere and anytime. In addition, hormones in saliva are exceptionally stable and can be stored at room temperature for up to a week without affecting the accuracy of the result. This offers maximum flexibility in sample collection and shipment.

Research at ZRT shows good correlations between salivary hormone levels and dosages of hormones given exogenously. Saliva testing is therefore a good option for monitoring hormone therapy and adjusting dosages if necessary.

Saliva testing can help by:
- identifying hormone imbalances prior to the appearance of symptoms or disease
- Identifying specific hormone imbalances associated with symptoms
- Monitor hormone levels while supplementing, allowing for individualized hormone dosing
- Track patient symptoms and hormone levels using ZRT's Comparative history reports proved with follow-testing

Watch ZRT Lab's Video on "Saliva Collection" for more information:


Some restrictions apply to residents of California and New York. Please note these details prior to purchase:

ATTENTION CALIFORNIA STATE RESIDENTS California State health law requires that the testing of any specimen collected or mailed from California be accompanied by a written order from a health care professional licensed in California to order laboratory tests. This includes the following disciplines: M.D.; D.C.; LAc; R.D.; D.O.; N.P.; and Pharmacists (R.PH). As of September 2002 (Senate Bill 577), such lab tests may be ordered by complementary/alternative health care practitioners "not providing services that require medical training." California consumers not working with a licensed health care professional should contact a compounding pharmacist in their area (click on Followup resources) or phone ZRT Laboratory (503) 466-2445 for further information.

ATTENTION NEW YORK STATE RESIDENTS New York State health law prohibits the testing of specimens collected in or mailed from New York & prohibits the transmission of data from our laboratory to NY physicians or residents. Therefore, direct receipt of lab results for NY residents is not possible.
---
We Also Recommend